About the karate
Kusano-ha shito-ryu kenpo karate do. Karate means literary "empty hand". It's a Japanese martial art with roots in China. The aim of karate is to train one's body and to cultivate one's mind. Besides a way to defend yourself it also gets you in great shape. During training we cover all aspects of karate. Basic kihon training, kata( forms) and applications and kumite or free sparring. Also budo is an important part of training.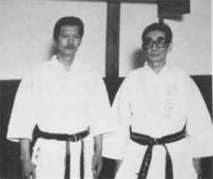 The Founder of Kusano ha Shitoryu is Soke Kenji Kusano. Born in 1942 in the Kyoto area of Japan. Kusano-ha Shito-Ryu has roots back to the traditional Shito-Ryu Karate-do of Kenwa Mabuni, who was the founder of Shito-Ryu. He had many students, one of them being Chojiro Tani. Tani was taught the shitoryu technique, and then he named his own style as Tani ha Shito-Ryu (Shukokai). One of Tani's best students was Kenji Kusano.
In 1963, Kusano was given permission to start his own dojo which Tani himself named Kenshikan. Kusano continued to study Karate-do under Tani's guidance until 1979 and then formed the "World Kenshikan Kenpo Karatedo Association." Though Kusano was very young at that time for being Chief and founder of his own style, he is today highly respected in J.K.F. and Regokai organisation in Japan.
Nowadays, Kusano-ha Shito-Ryu has about 100 dojo's in Japan and 40-50 dojo's outside Japan, (Europe, Asia, Middle East, Africa, etc.).
---
Kusano-ha shito-ryu kenpo karate do.Karate 字面意思就是"空手道"。它是一种源自中国的日本武术。空手道的目的是强壮人的体魄和培养人的意志。空手道除了可以用来防身之外,还能塑身。我们的训练包括空手道的全方位,从基本的形体训练开始,到招式练习和应用,再到自由对打,这是一个循序渐进的过程。当然,武道也是训练中非常重要的一部分。

草野派系东流的创始人是草野健志。他1942年出生于日本京都区。 草野派糸东流可以追溯到由摩文仁 賢创立的早期传统的空手道系东流。摩文仁 賢 早年有很多的弟子,其中一个就是现今有名的谷长治郎。谷长治郎曾经执教于系东流的技法方面,后来他以他自己的名字命名这个流派为Tani ha Shito-Ryu (就是早年的Shukokai)。 而谷长治郎最有名的学生就是 草野健志。

1963年,草野获得了开办道场的资格,而这个道场就被命名为健志馆。草野在1979年的时候创立了"世界草野派糸东流空手道联盟",而在此之前,他一直在谷长治郎的指导下练习空手道。尽管那时候作为他自己流派的创始者和首领,草野还是相当的年轻,而如今,他在日本的J.K.F. 和Regok联盟中却是德高望重的。

到现在,空手道系东流派在日本已经有大约100所训练学校了,除了日本之外, 在欧洲,亚洲,中东,非洲等地也有40-50处训练馆了。